Aka Attack Of The Robots
Pitch: L'agent Al Pereira travaille pour Interpol, sa mission est de réduire a néant une organisation crimininelle qui utilise des robots humains vêtus de noir et portant lunettes noires.
Ces fameuses lunettes servent en fait a guider les robots tueurs!
Le point commun de ces humains télécommandés, est d'être tous du groupe sanguin Rhesus O neutre, comme notre bon vieux Hal, qui pourra donc se laisser kidnapper pour infiltrer l'Organisation.
Coproduction franco-espagnole, réalisation de Jesus Franco qui est encore dans sa période que l'on peut appeller "classique" et bénéficiant de Jean-Claude Carriere en screenwriter!
Très bon scénar d'ailleurs mêlant SF et Spy movie!
La distribution est excellente, mais je ne suis pas un grand fan de Constantine qui à mon gôut en fait des tonnes, et ici il cabotine grave!
Donc un cast international:Eddie Constantine, Françoise Brion, Fernando Rey, Sophie Hardy, Mara Kelly, Dina Loy, Aida Power, Alfredo Mayo, Vicente Roca, Marcelo Arroita-Jáuregui...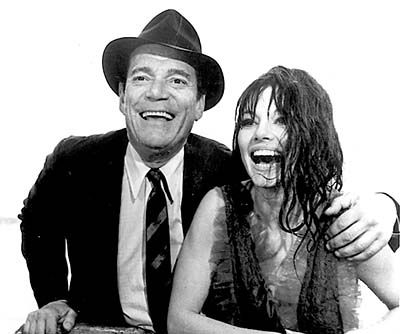 Un Franco sympathique, tous public avec Fernando Rey et Françoise Brion qui sont parfaits et Sophie Hardy, déja vu auparavant dans des prods allemandes (krimies et winnetou) dans le rôle de Cynthia la strip-teaseuse, en fait elle aussi est un agent travaillant en "sous-marin".